Think about the last big purchase you made to fix a problem.
You probably did a little bit of research to figure out how to fix it. Consumers (like you!) don't want to be sold to. They want to be educated to help them make smart decisions and help them grow.
An Inbound Marketing methodology is non-invasive, providing the right content at the right time and effectively moving a prospect along the Buyer's Journey.
Inbound is all about being human and helpful, which is just as important for your customers as for the people you recruit. If the people who work for you can be human, they will connect.
By exponentially increasing your company perception of being helpful through content, AI and machine learning, you will come out on top in the competitive landscape. But you still need to surface help faster and with the help of automation, all business can facilitate this responsiveness. It's time you allowed your sales and marketing teams to have more time to do the things they love at work...the creative stuff that automation can't recreate.
So what is Inbound Marketing anyway? It's an all-inclusive term that covers:
Content Marketing
Paid Advertising
Marketing Automation
Social Media Marketing
SEO
Chatbots
...and that's just scratching the surface.
Technology and user behaviour has created a more conversational way of engagement. Previously, humans were moulding to the software, but more recently we have seen software adapting to humans. With people using more conversational language in their search queries, the technology has become sophisticated enough now that it can understand and respond with proper context.
All of this means that search engines have changed and the keyword content structure doesn't work as effectively as it once did.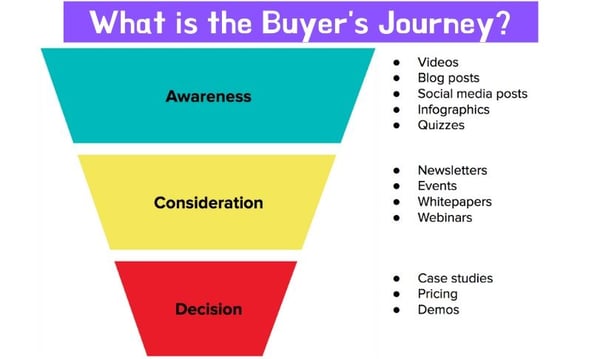 There are three stages in the Buyer's Journey and by tailoring your sales and marketing content types and brand tone of voice to each of these stages, you are engaging your prospects helpfully.
Awareness
Your prospect is aware of they have a problem, but they are yet to understand, frame and give it a name.
What are they thinking? I need to improve ___, prevent ____, stop ____, start _____, optimise ______, solve ____.
This is where social media is a great place to be present.
Read: If you are an SME, make sure you are aware of the best practices on Facebook to grow and engage an audience.
Consideration
Your prospect has clearly defined and given a name to their problem. They're committed to researching and understanding all the available approaches to solving their defined problem.
They are asking: What tools are available? How do I solve this? What are my options?
Decision
Your prospect has decided on their solution strategy, method or approach. They might compile a long list of all available vendors and products. They're probably researching to whittle down that long list and ultimately make a final purchase.
What are they thinking? I need prices for ____, I need to understand product specifics, I need proof that _____ works, I need evidence, I need assurance that ____.
Once you understand your Buyer's Journey, you can start applying this to the Inbound flywheel.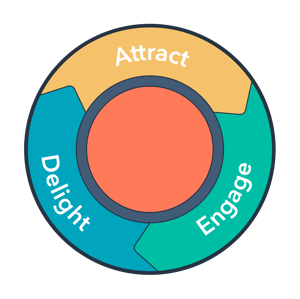 What content works to achieve what? We've already touched upon this in the Buyer's Journey, but here you can see how it perfectly aligns with the flywheel.
Attract
Tone of voice examples: Focus on what your prospect is experiencing when suffering from their problem. Empathy and approaching your content for a purely customer-centric POV here is key! Show your understanding of the problem, but don't try and solve it just yet.
Blog posts
Videos
Social media posts
Engage
Tone of voice examples: Now you've got their attention with your knowledge, it's time to present your solution. The key here is to not give it all away for free though. Get your prospect's details at every opportunity and build your knowledge with every visit, enriching your CRM. Nurture them to purchase.
Forms
E-books
Whitepapers
Lead scoring
Marketing automation
Delight
Tone of voice examples: Ensure you are continuing to involve your customer by gaining their feedback, sending them tutorials on your product (to enrich their use and experience), and ultimately building internal knowledge and refining your buyer personas with more and more substantial data.
Surveys
NPS
Loyalty programmes
The foundation for all of this is a CRM.
A lot of people think a CRM is a sales tool, but the clue is in the name after all. It's Customer Relationship Management and an entire business can benefit from its proper use. It's so powerful because it's more than just a contact database. It's the heart of every piece of your marketing, sales & service strategy. A customer-centric platform capturing anyone your company markets, sells, partners and engages with, in this highly competitive landscape.
Read: If you are looking for a CRM platform that is designed for growth, HubSpot is a fantastic option to consider as a real all-rounder.
Today your entire company needs to be a part of delivering this great experience. The sales and marketing and service teams are all responsible for attracting, engaging and delighting people. Once you start putting it into practice, every single person will be aligned around the one Customer Strategy. The inbound movement is just getting started and we need to keep being open to experimenting when striving to foster better relationships with prospects and customers.
Your company needs a strong culture that defines how people act, whether they are an Individual Contributor, Management or C-level. It's about what makes your company tick and what people do when nobody is watching.
A remarkable culture is just as inherent for an organisation and requires immersive experiences rich with empathy and adaptability.
This should be your promise for your Customer Experience and the Employee Experience.
Want more? Just get in touch for any specific insight and we will also keep updating this page.